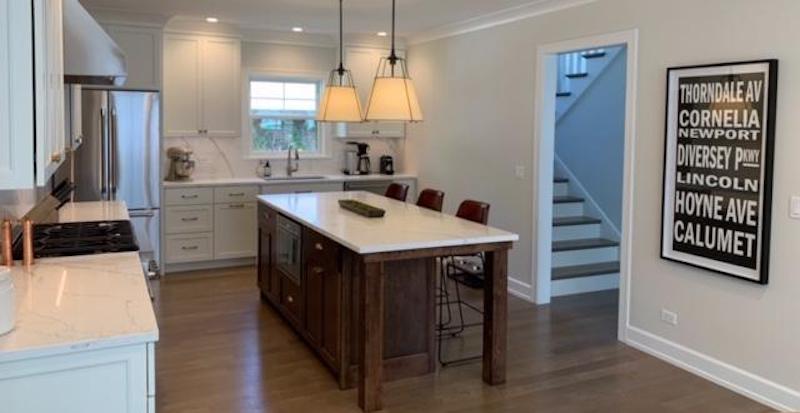 Remodels & Additions
We use our time and skills to bring your vision for your home to life whether you're remodeling one room, renovating several rooms, or completing an entire addition.
We handle all of our remodel and addition projects in a way that communicates a clear path from beginning to end and eliminates as many working gaps and construction delays as possible.
We remodel homes in the western suburbs of Chicago. One-room complete remodels typically start at $20,000. Whole-house renovations typically start at $100,000.
Testimonial
"Our family was moving to La Grange from California and after several rounds of searching, we found a house in a great location. The home's layout was somewhat there, but I knew it needed a lot of remodeling work to get it to a place I'd love and that would work well for my family's needs.
I contacted Brian at OPPO and had him come take a look. He's very familiar with the community and talked about the home's pros and cons. He informed me about the remodeling process and then gave an accurate estimate of the project's cost. He even helped me negotiate the deal when we decided to purchase the house."

Our tried and true process is what you can expect when you
hire OPPO for your remodel or addition

…
Phase One: Discovery


You'll meet with Brian, your construction partner, to share your design vision, living needs, and budget. Once we understand and agree to the scope and the budget for the project, you'll sign a contract to begin work, unless our architect is needed to produce detailed drawings. If our architect is needed, you'll sign a contract once you've approved the concept drawings.

Phase Two: Approval of Ideas & Plans


Once you approve our architect's final plans, they will be submitted to the local municipality for their sign-off and approval to obtain a building permit. Construction can begin when the permit is in hand.
Phase Three: Construction Begins!
The necessary tradesmen begin work based on our guidance and instruction until the project is complete. The construction team will outline each phase of the work and schedule each trade to work together to get your project completed in the most efficient, timely, and professional way possible.